Water Meter Reading Problems and Water Bill Smoothing FAQs
Background
The City of Austin serves approximately 206,000 residential water customers. City of Austin Utilities is responsible for reading meters, preparing bills and providing customer service. In October, we began hearing from customers that their September bill was too high. For many of these customers, the August water bill was low, compared to August billings in previous years.
After dealing with many individual accounts, Austin Energy, which operates the Utilities Customer Service Office, and Austin Water launched a comprehensive look at the system to determine the pattern of unusual low/high bills. We looked at millions of lines of data through analytical tools. We found the low/high problem clustered along 135 of the City's 1,080 meter-reading routes.
The pattern of lower-than-normal meter reads on these 135 routes in August and higher reads in September is an anomaly. People in Austin usually use more water in August than September. We found 17,800 customers that had higher readings in September than in August. For about half of them, the financial cost of higher use billed in September was greater than the reduced cost they experienced because of lower metered usage.
Since the low/high readings were an anomaly, the City of Austin will provide a billing adjustment. The adjustment is based on smoothing or averaging water use between August and September. It is designed to mitigate any increase in total costs that an individual customer might have experienced because of the anomaly.
The City of Austin and all officials involved in this process apologize for problems and concerns experienced by affected customers. We take these questions very seriously and pledge to rebuild trust in the metering and accurate billing of all utility services.
The City has taken two actions. We are averaging or "smoothing" the water bills for August and September, developing bill credits for approximately 7,400 affected customers worth a total of $138,000. If the total smoothed bill for a customer is higher than what customers were already charged, we will take no action.
Also, we have begun taking photographs of all meter readings each month so they will be available for internal quality assurance use.
We recommit ourselves to providing excellent customer service and regret this anomaly and any difficulty it has caused.
Questions
How will customer accounts be adjusted?
For 7,400 affected customers only, water use will be spread evenly across August and September to "smooth" the bill if it will result in a reduction of charges. For many, the smoothing effect does not result in a credit because it does not change the tiers used to bill for the water. Accounts identified as having significantly higher use than in previous years may also qualify for a High Bill Administrative Adjustment. Staff will work with customers to offer this avenue where appropriate.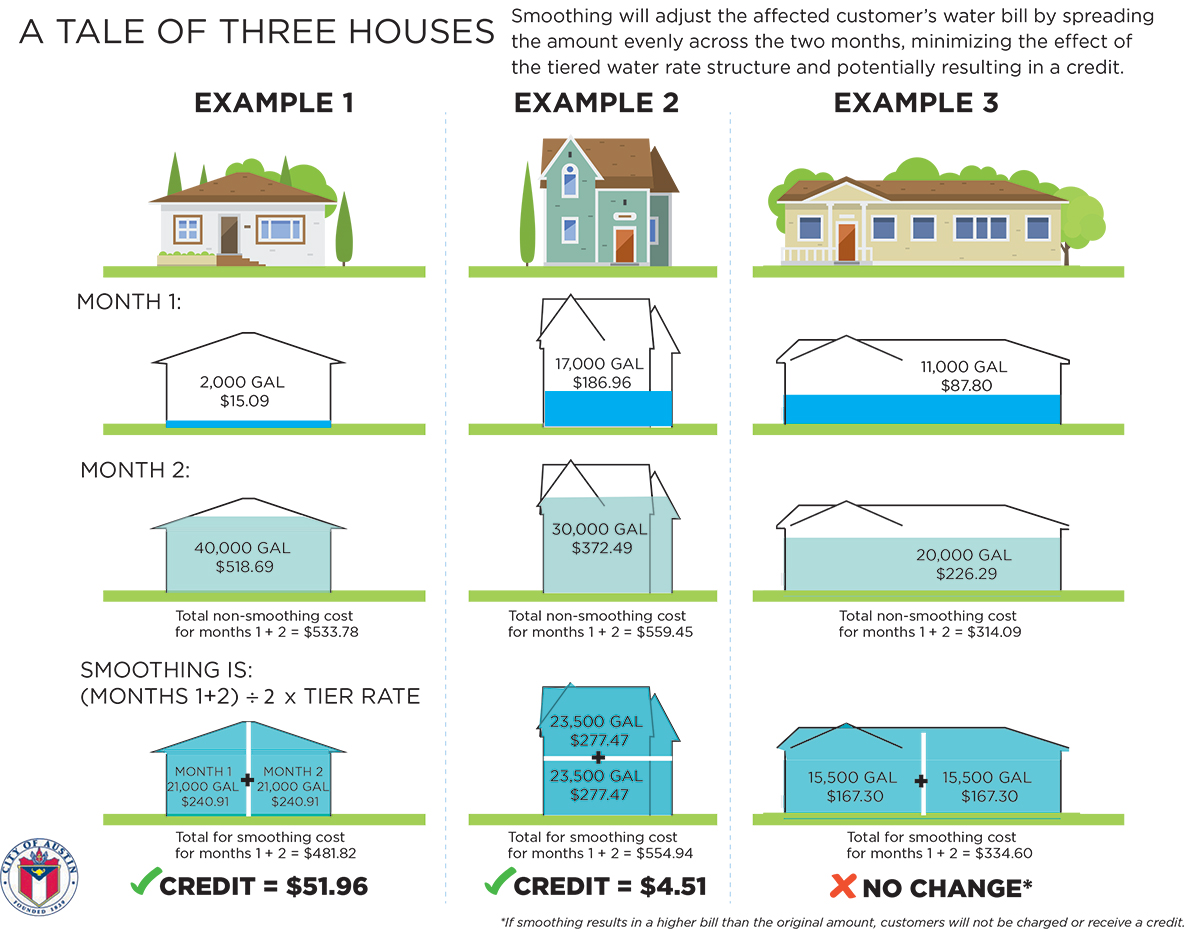 Can I expect a refund?
City of Austin Utilities will provide a bill credit, not a refund, if warranted. Credits range from a few cents to about $80 and average about $20.
How can customers find out if they were affected?
City of Austin Utilities will send a letter between Feb. 1 and Feb. 15 to every customer identified as affected by low/high reads. The first letters will go to the approximately 7,400 customers who will receive a bill credit. Customers who experienced a low/high usage pattern, but would not be positively affected by a bill credit also will be contacted by letter.
When will I hear from you?
If you have not heard from us by March 1, 2018, you are not among customers whose accounts have been identified. If you feel that is in error, please give us a call at 512-494-9400.
When will I see my credit?
If you are to receive a credit, it will be on your bill by March 15, 2018.
I couldn't pay all of September's bills. Will I be penalized by late fees?
No. We are waiving all late fees associated with this event.
Is this the same thing that happened in 2015?
No. In 2015, weather conditions drove a substantial increase in water use throughout the Southwestern United States. This resulted in high bills for some Austin Water customers.
What have you done to prevent its recurrence?
We are adding proactive safeguards to prevent its recurrence. Since Jan. 29, we have required meter readers to take photos of all meter reads, not just those are unusually high or low. Moreover, City of Austin Utilities is rededicating itself to better customer service, more stringent data safeguards and robust investigations when customers notify us of problems.
What if customers believe they were affected?
We encourage customers who believe they experienced low reads in August and a high read in September to wait until Feb. 28 to receive a letter from City of Austin Utilities. If no letter is received and the customer is still concerned, please call 512-494-9400. We will review the individual account and determine the appropriate resolution. While customers typically need to contact City of Austin Utilities to dispute a bill within 90 days of receipt, we will accept disputes of bills during this affected period (July 2017 through September 2017) through March 31, 2018.
What happens to customers who already received a High Bill Administrative Adjustment due to a high bill during this period?
Typically, customers are only eligible for one adjustment in 24 months due to unexplained high water use. However, because the adjustment was applied in this case due to a large-scale pattern of meter-reading errors, City of Austin Utilities will waive the 24-month limitation for these affected customers to ensure they have the protection of the High Bill Administrative Adjustment should they experience an unexplained high bill in the future.
What if a customer is not satisfied with the smoothing credit to their account?
While customers receiving a bill adjustment are typically not eligible for an Administrative hearing, Austin Water will waive that provision for customers receiving a smoothing effect as a result of this situation. We believe we have identified affected customers and provided a fair resolution to this issue; however, we do not want to deny customers the right to further protest. Customers who have already received a High Bill Adjustment have waived their eligibility for an administrative hearing.
How does this affect customers on a payment plan?
There is no impact on payment plans.
Will commercial customers receive this bill adjustment?
No. Commercial customers are not subject to tiered rates, and in the event of a low read followed by a high read, the total dollar amount charged would not change over the two-month period.
Will there be an adjustment of the wastewater charge?
No. In many cases, total charges would go up if wastewater charges were recalculated at the smoothed rate.

Customer Care
(512) 494-9400
TDD: (512) 477-3663
Outside Austin call toll-free:
(888) 340-6465
Monday - Friday
7:00 a.m. to 9:00 p.m. CST
Saturday
9:00 a.m. to 1:00 p.m. CST