New, improved website coming soon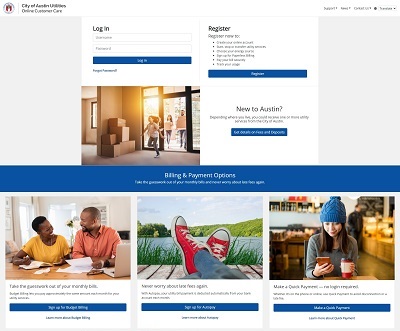 City of Austin Utilities Online Customer Care is changing! Soon you will see a redesigned customer experience — with any device, anytime — both before and after you log in.
Don't have a login yet? Register now
What to Expect
The goal of the system upgrade and redesign has been with you, the customer in mind.
With improved functionality and new self-service options, you will be able to:
Sign up for billing and payment options, such as Paperless Billing, Autopay, and Budget Billing.
Start, stop, or transfer utility services online with ease.
Complete payment and service transactions and get on-screen confirmations in real time.
View billed usage for all services and access detailed usage information.
Sign up for alerts and notifications.
With the redesigned website, customers will have improved access to helpful information related to City utility services and departments. Also, monthly news updates will be more prominently featured.
Stay tuned, Austin! We're excited to bring you these improvements.

Customer Care
(512) 494-9400
Outside Austin call toll-free:
(888) 340-6465
Monday - Friday
7:00 a.m. to 9:00 p.m. CST
Saturday
9:00 a.m. to 1:00 p.m. CST
Disability Assistance
Relay Texas: 7-1-1
TDD: (512) 477-3663