The City of Austin's Public Works Department designs, manages, and inspects major capital improvement projects; promotes bicycle, pedestrian, safe routes to school, and urban trail projects; and maintains the City's network of trails, roadways, and bridges once they are built.
Programs
View all Public Works programs, projects, and services
Transportation User Fee
The Transportation User Fee (TUF) is assessed to residents and businesses based on the traffic levels generated by each dwelling unit or business. It funds the maintenance and repair of roadways, signs, signals and markings, sidewalks, and urban trails. The fee is charged on City of Austin utility bills.
Residential customers may be eligible for an exemption if the person who is responsible for paying the utility bill meets one of the following criteria:
Age 65 or older; or
Does not own or regularly use a private motor vehicle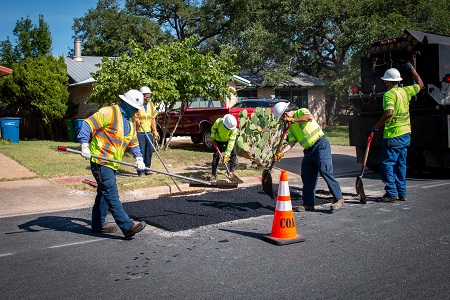 Austin Public Works is the City department that maintains the network of roadways, bridges, and urban trails. Customers can get information on street and bridge operations, safe routes, and right-of-way vegetation maintenance. Information on the Transportation User Fee (TUF) and exemptions are also available.
Visit: austintexas.gov/public-works
Date last reviewed or modified: 8/28/20