The Austin Transportation Department's mission is to provide the safest and most efficient, cost-effective and sustainable roadway, bikeway, walkway and transit system for the community.
Responsibilities
Transportation User Fee
One of the methods to fund the City's transportation system and fulfill the department's mission, is a Transportation User Fee (TUF) assessed to residents and businesses.
This monthly fee funds street maintenance and repair, annual street overlay and striping and other activities necessary for keeping Austin's roadways in good condition. City of Austin residents pay the mandatory fee to help prolong the life of City infrastructure and assets.
By managing and maintaining public right of way infrastructure, the City of Austin is able to save taxpayer money by intervening before full reconstruction is needed. Full street reconstruction can be costly and time-consuming, therefore preventative maintenance provided by the fee helps reduce these costs.
View the City of Austin Ordinance regarding the fee
Some examples of programs and projects funded by the Transportation User Fee are:
Roadway signage and markings
Traffic engineering
Traffic and pedestrian signals
Transportation systems planning
Active transportation infrastructure such as sidewalks and bikeways
Roadway safety features
Austin Transportation is the City department that works to provide the safest and most efficient, cost-effective and sustainable roadways, bikeways, and walkways. Customers can get information on right of way, on-street parking, and bicycle commuting.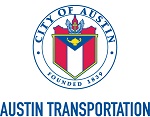 Visit: austintexas.gov/transportation
Visit: GetThereATX.com
Date last reviewed or modified: 8/28/20