Austin Resource Recovery provides a wide range of services designed to transform waste into resources while keeping our community clean.
Zero Waste Goal
Our goal is to reach Zero Waste by 2040, which means reducing the amount of trash sent to area landfills by 90%.
Zero Waste is a philosophy that goes beyond recycling to focus first on reducing trash and reusing products and then recycling and composting the rest.
Zero Waste recognizes that one person's trash is another person's treasure, and everything is a resource for something or someone else.
Our Vision — To be the national Zero Waste leader in the transformation from traditional integrated waste collection to sustainable resource recovery.
Our Mission — To achieve Zero Waste by providing excellent customer services that promote waste reduction, increase resource recovery and support the City of Austin's sustainability efforts.
Our Programs and Services
Austin Resource Recovery provides residential curbside collection of trash, recycling, composting and yard trimmings.
Additional services include clothing and housewares collection, street sweeping, dead animal collection, operating a drop-off center for hard-to-recycle items, and collecting bulk items and large brush.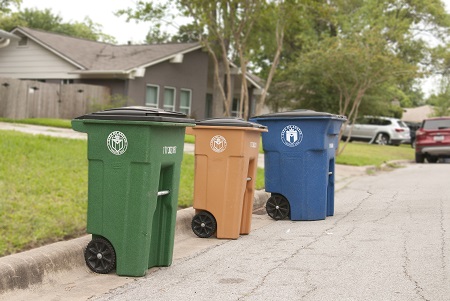 Austin Resource Recovery is the City's waste management utility. Choose your trash cart size, find your collection schedule, and learn how to recycle, compost, and more.

Visit: austinrecycles.com
Date last reviewed or modified: 8/28/20